03 Aug 2022

|

Update
Helping the homeless one load at a time
Raising awareness for Homelessness Week
Did you know, there are over 116,000 Australians experiencing homelessness every night? This week is
Homelessness Week
(1-7 August). The annual event raises awareness around the number of vulnerable people and helps inspire action.
There are many ways to lend a hand. One of our Water Corporation team players helps by rolling up her sleeves every fortnight.
Giving the gift of time

Gemma donates her time to Orange Sky Australia every second Monday. Volunteering in their van regularly is possible thanks to her flexible working roster. Every fortnight Gemma uses her registered day off to selflessly help the homeless.

"I get to give back to my community in a meaningful way. Adding a bit of sunshine to someone's day by having a chat and connecting with them is so rewarding".

Winter is a challenging time for the community doing it tough. Gemma finds Homelessness Week very important as there are many events held across Perth. These usually centre around providing food, vaccinations, haircuts and clothing. Educational sessions are also a vital part of the week as they help to build understanding.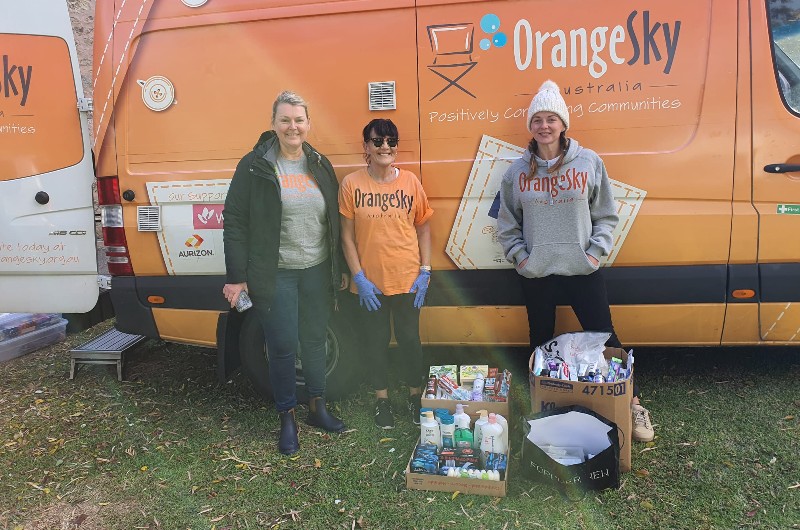 Gemma outside Orange Sky van with other volunteers

Sharing the load
Orange Sky started with one van, two washing machines and a stack of orange chairs. The not-for-profit is the world's first free mobile laundry service. This incredible commitment to people experiencing homelessness, provides much more than just water.
The ability to have a hot shower and clean clothing is a basic human need, yet a luxury many can't access. While clothes are getting washed and dried, a seat is available to rest. In this safe, inclusive space, those doing it tough connect to Orange Sky volunteers. Meaningful conversation about support services and counselling unfold in a non-judgemental environment.
Last year, more than 2,000 loads of laundry and 1,300 hours of conversation happened over 175 shifts.
Helping to build a sustainable future
We have been supporting the WA branch of Orange Sky since 2016. This is one of many organisations we partner with to help our state to thrive. Working together across government, industry and the community is the only way to build a sustainable future. We all have a role to play in securing our water supply for generations to come.
Thank you to Gemma, and all those who dedicate their spare time to helping others. Your generosity and selflessness, build communities and create a better place for everyone.
To see how you or your company can make a difference, visit
Homelessness Australia
.