Albany Highway pipe relocations
Project goal:
To relocate water pipes from under Albany Highway, to assist with Main Roads WA intersection upgrades near Kelvin Road and Olga Road in Maddington.
Status:
In construction
Delivery Date:
May to November 2022
Get Involved:
Visit the engagement hub to register for updates, see the pipeline alignment in greater detail, read the frequently asked questions, access resources for businesses, and ask to questions about the project.
Where is this happening?
Around 400m of water pipes will be relocated from under Albany Highway near the Olga Road and Kelvin Road intersection. New pipes will be installed in the verge via open trench excavation on both sides of Albany Highway.
Please refer to the map below for the location of the relocated pipelines and connections.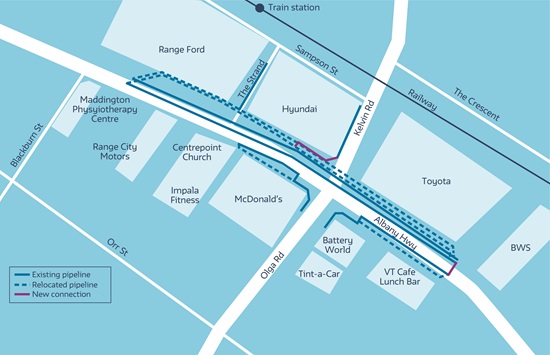 When is this happening?
Construction work will start in May and be finished around November 2022 by our authorised contractor, Civcon.
Construction will be completed between 7am and 7pm on weekdays, and Saturdays as required.
What will the impacts be?
Construction impacts: Aspects of this work will cause noise, dust and vibrations including cutting and excavating the road verge and compacting the earth once the new pipes have been installed.
Traffic interruptions: Sections of the road will be closed along Albany Highway and at Kelvin Road and The Strand. Traffic management will be in place to assist drivers with road detours.
While work is being completed on The Strand, some of the on-street parking will be restricted. The Strand will still be open to local traffic from Sampson Street. Traffic management signage will be in place to assist drivers with this detour.
Access to local businesses: Construction work may temporarily restrict access to local business car parks. Temporary access ramps will be installed to open access where possible and traffic management signage will be installed to assist drivers with alternative access routes.
Water supply interruptions: Properties in the area may experience a temporary water supply interruption while the new pipe is pressure tested and connected to the network. Our team will notify affected properties at least 48 hours in advance of this occurring. Please contact us if you have any water requirements during this time.
Restoration of impacted areas: Our construction methods mean unavoidable impact to the verge, kerbs, car parks and the road. All areas impacted by the work will be returned to as close to their original condition as reasonable.
We understand and appreciate that this work may cause temporary inconveniences and disruption, and we will do what we can to minimise impacts where possible.