Your residential water bill explained
You should receive a water bill from us every 2 months. Water bills generally include one or both of the following charge types — you will find these charges listed on the back of your bill:
Service charges – is an annual charge divided across your bills for the year, and includes a water, drainage and sewerage service charge.
Please note if you are a business customer visit the bill and charges for business page to find out more about your bill.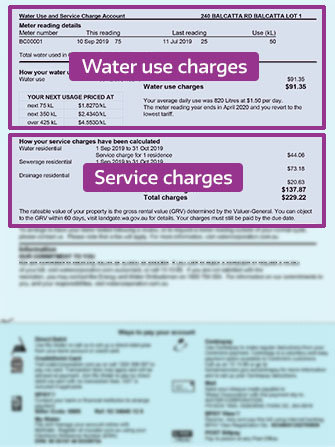 Find out about water tariffs and how your water use charges are calculated.
Find out what makes up your service charges and how they are calculated.
Other bill types
There are many other types of bills you may receive depending on the type of service you receive from us. You can find your bill type in the top right hand corner of your bill. Find out more about our other bill types below:

For residents who are billed service charges only
For residents who are billed for their water use only
Issued for accounts that are classed as vacant land
Issued when we make an adjustment on your account
Does your water bill seem high?
Your water bill can be higher than normal for a few different reasons.
Average household water use
How much your household uses depends on a number of factors. Find out how your water use compares to similar households.