24 Mar 2022

|

Media Release
Rockingham's beachside culture celebrated in new community artworks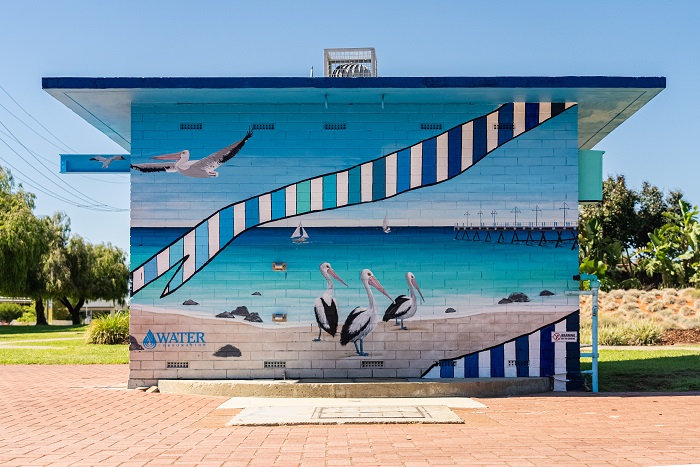 Rockingham Beach Cup, Penguin Island and Rockingham Jetty feature in new community artworks painted on water assets

Murals painted by local artist with help from Bungaree Primary School students

More than 60 Water Corporation assets transformed since 2017 through its Splash of Colour program
Rockingham's iconic coastal lifestyle is the inspiration for two public murals that have transformed indistinct water assets into vibrant community artworks.
The murals, which adorn a water pump station in Derbal Nara Community Gardens and an electrical cabinet on the Rockingham foreshore, were funded by the McGowan Government through Water Corporation's Splash of Colour program.
They feature scenes unique to Rockingham, including the city's famous Rockingham Beach Cup horse race, Penguin Island and Rockingham Jetty.
Designed and painted by local artist Samantha Prentice with help from Bungaree Primary School students, the murals also showcase the area's unique native flora and fauna, as well as recreational pastimes.
As part of a design workshop, students learnt about the water cycle, water conservation and where their water comes from, including how seawater is transformed into fresh drinking water at the nearby Perth Seawater Desalination Plant in Kwinana.
The McGowan Government, through Water Corporation, has supported Splash of Colour since 2017. In that time, more than 60 water and wastewater assets across Western Australia have been transformed into vibrant community artworks.
View other Splash of Colour projects by following #splashofcolour on social media.
Comments attributed to Water Minister Dave Kelly:
"Through the Splash of Colour program, we've now transformed more than 60 assets into something local communities can be proud of and that adds real value to our streets and suburbs.
"Just as importantly, each project is inspired by a local water story and serves to remind people of how integral water is to so many aspects of our lives.
"By involving local school children, we're able to teach students where their water comes from and instil at an early age waterwise behaviours that will hopefully last a lifetime."
Minister's office - 6552 6100