09 Nov 2016

|

Media Release
Cadoux Primary School achieves waterwise status
Cadoux Primary School was recognised as Western Australia's 565th Waterwise School at a special assembly today.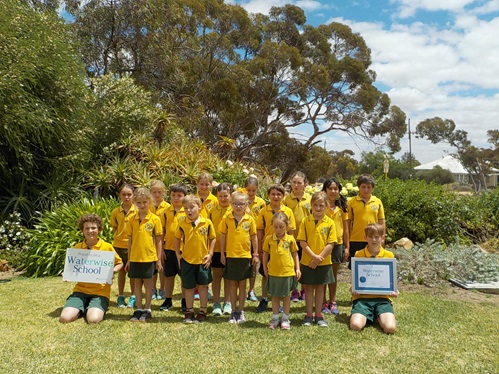 As part of Water Corporation's Waterwise Schools Program, teachers have been educating students about the need to value, protect and conserve our water sources.
Water Corporation Goldfields and Agricultural Regional Manager, Sharon Broad, thanked the school for sharing the waterwise message in the Wheatbelt.
"It is encouraging to see how the teachers and students at Cadoux Primary School are doing their bit to save precious water in our drying climate," Mrs Broad said.
"It is important the next generation are aware how precious water is, and the Waterwise Schools Program has been nurturing that awareness for the past 21 years across Western Australia."
Cadoux Primary School Waterwise Coordinator and Principal, Helen Hill, said it was important for students to learn about the value of water in the Wheatbelt.
"As a result of the program the students have become more aware of the value of water in the environment," Ms Hill said.
"This year the students learned about the water cycle, wrote poems about being waterwise and learned how important water is to farms."
Now in its 21st year, Water Corporation's Waterwise Schools Program takes a long-term approach to water education and behavioural change, and complements the curriculum across all major learning areas.
Further information on the Waterwise Schools Program is available at watercorporation.com.au
---
Media Enquiries:
Contact: Kathy Balt
Position: Regional Engagement and Communications Officer
Phone: (08) 9622 4808