02 Dec 2016

|

Media Release
Nannup District High School celebrates a decade of water wisdom
Nannup District High School celebrated 10 years enrolled in Water Corporation's Waterwise Schools Program at a special assembly today.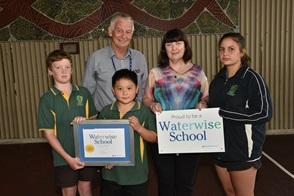 As part of the program, teachers at the school have been educating students about the need to value, protect and conserve our water sources for a decade.
Water Corporation South West Regional Manager, John Janssen, thanked teachers and students for sharing the waterwise message.
"Our Waterwise Schools Program provides support for teachers to educate students to develop water saving habits to last a lifetime," Mr Janssen said.
"Students are the water users of the future, so it is vital teachers continue to educate them about the value of water in our drying climate.
"Congratulations to Nannup District High School on your commitment to the program and I look forward to the next decade of waterwise education."
Nannup District High School Waterwise Coordinator, Jack Buntain, said it was important for students to learn about the importance of water in Western Australia.
"As a result of this ongoing program, students have a greater awareness of where Nannup water comes from when we turn on the tap, where our wastewater goes, and what it's used for," Ms Buntain said.
"Increased appreciation of the school grounds as a stormwater catchment has also motivated litter prevention. Foreshore revegetation, Noongar cultural education, macroinvertebrate and water quality investigations have connected the students as custodians to their local Blackwood River."
Now in its 21st year, the Waterwise Schools Program takes a long-term approach to water education and behavioural change, and complements the curriculum across all major learning areas.
Further information on the Waterwise Schools Program is available at watercorporation.com.au/
---
Media Enquiries:
Contact: Tony Snelling
Position: Water Corporation Regional Engagement and Communications Officer
Phone: (08) 9725 5148