04 May 2022

|

Update
Waterwise champions making it their business to save water
Using water sustainably is good for business. Just ask this year's waterwise award recipients.

Together with the Department of Water and Environmental Regulation, we're proud to celebrate the water efficiency efforts of those who are involved in our waterwise programs.

As our climate continues to change, it's more important than ever that we all work together to save water. This year's champions have hit new highs, protecting and using our precious water in the most sustainable way.
Taking the irritation out of irrigation - City of Joondalup
A Waterwise Council for 10 years running, City of Joondalup have taken out this year's Waterwise Council of the Year award. Among many fantastic initiatives, the City has been busy installing smart irrigation controllers in its parks, which link to a web-based central control system.
A total of 178 irrigation controllers are now in place. This innovation is reducing groundwater consumption, improving data tracking, scheduling and maintaining irrigation infrastructure. They're also reducing greenhouse gas emissions with the installation of solar panels for the system.
Tip: Many households in WA use a weather smart irrigation controller for their gardens. The controllers can react to changing weather conditions and be controlled remotely on your phone or desktop. Speak to a waterwise garden irrigator or waterwise irrigation design store to see if this might be a good fit for you.
Wetland transformation - Town of Bassendean
Community Choice Award winner, Town of Bassendean, has transformed the Mary Crescent Reserve stormwater basin into a micro wetland.

The area now provides amenity for residents, as well as habitat for local flora and fauna. In the long term, the wetland will also reduce water use and create a cooler environment in the park.

Tip: If you're thinking of a garden makeover, use our waterwise plants directory. The tool can help you choose the best plants for where you live, and the type of garden you'd like to have.
Waterwise swaps - Bayswater Waves
Alongside a significant leak seeking project, Bayswater Waves has undergone a waterwise refurbishment which included:
changing basin taps to push button
installing new showerheads
repurposing outdoor rinse showers as dry facilities.
These changes will save water every day, while still providing great amenity to customers.
Tip: Replacing showerheads with WELS 3 star rated models or better can reduce flow rate by over 50%. It's an easy and inexpensive way to save water and in most cases, the payback period is under 12 months.
Seeking leaks at Crown Perth
Waterwise Commercial Business of the Year has been awarded to Crown Perth for Crown Towers Hotel and Crown Metropol Hotel.

Crown Perth demonstrates a long-term commitment to efficient water management. They were one of the first businesses to work with us on developing a Water Efficiency Management Plan in 2008.

One of their biggest water saving achievements in the last 15 years, has been the close monitoring of their cooling towers. Cooling towers are required to help keep the hotel cool, but they use a lot of water. By installing sub-meters and a remote alert system Crown Perth can identify issues immediately. This avoids excessive water use by the cooling towers.

Tip: Seek a leak at home using our leak detection tool.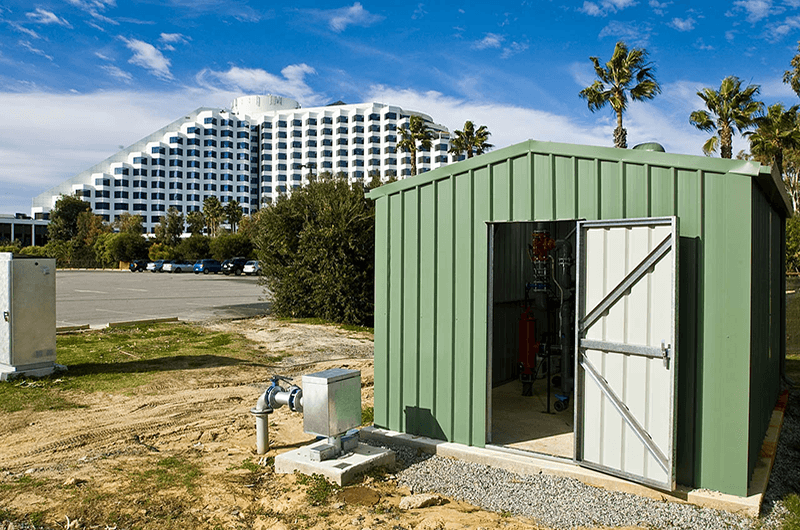 Bore installation area at Crown Metropol Hotel.
Working with experts at D'Orsogna Limited
Being in the food industry, water plays a key role in cleaning and hygiene for our winning Waterwise Industrial Business of the Year, D'Orsogna Limited. The team constantly liaise with plumbers to ensure they're using the most efficient and fit for purpose taps, wash down guns, and processes.

Tip: We have a great directory of waterwise specialists to help you both in your home and in the garden.
Continuous learning at QV1
This year's Waterwise Building of the Year - QV1 proactively educate staff, security and subcontractors on best practice ways to be waterwise. Now, being waterwise at work is part of their everyday.

Tip: View your online account to see customised waterwise tips for your household. Complete your profile to get started.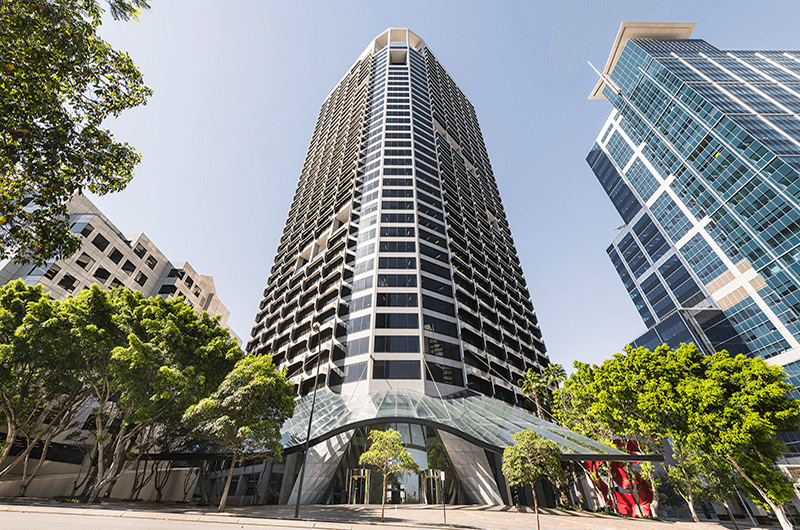 Exterior of QV1 building at 250 St Georges Terrace.
A new sustainable community - OneOneFive Hamilton Hill
DevelopmentWA transformed the former Hamilton Hill Senior High School location into a community-minded housing estate. The site features climate responsive planning and a balanced approach to water management, which promotes green spaces and community wellbeing.

Tip: See our 5 step guide to nailing your waterwise garden.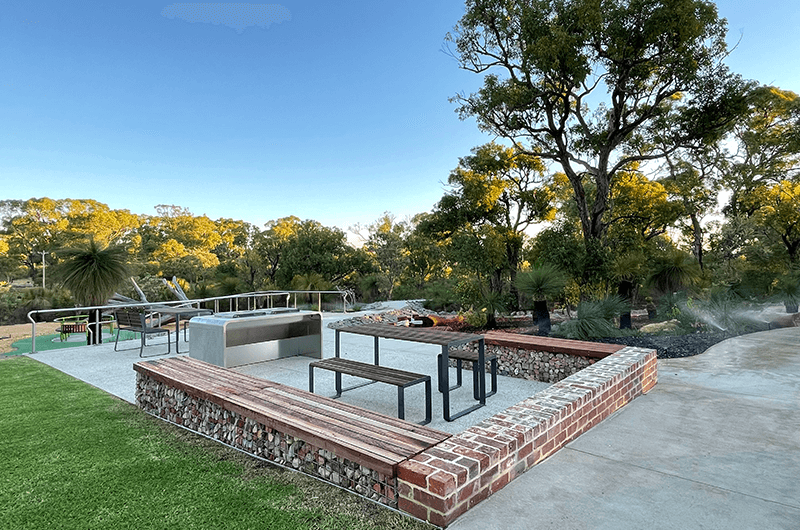 Sitting area at OneFiveOne Hamilton Hill.
Learn more about how to be waterwise inside and outside your home with our waterwise resources.