16 May 2022

|

Update
A fruitful outcome for Yakanarra
Thanks to a new citrus garden planted using a grant from Water Corporation and Lions Club of Broome, there will be healthy snack options for a remote Kimberley community.
Orange, mandarin and lemon trees are due to colour the entrance of the Yakanarra community supermarket next year. These citrus snacks are made possible through the 2021 Kimberley Community Grants Scheme.

Recycling biodegradable waste from the school and from local homes, the garden has brought together generations to plant the established trees. This was an important goal of the project and also opened the conversation around sustainable water use for the community.

These vital relationships between Elders and children means traditional knowledge can continue to be shared and passed down.

Yakanarra Aboriginal Corporation Chief Executive Officer Johnny Bekin said the garden will benefit the community long into the future.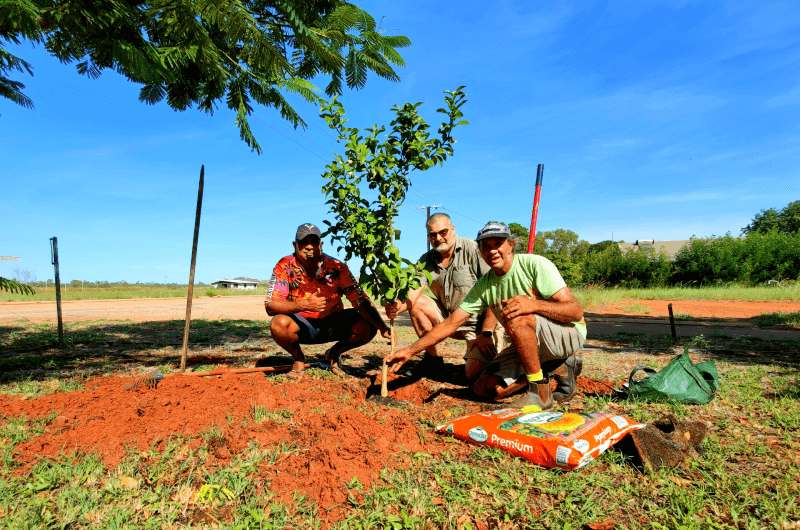 Johnny, Darryl and Jermaine planting a citrus tree in Yakanarra
The 2022 grants scheme applications close this month
Local schools, community organisations and not-for-profit groups can apply for individual grants of up to $10,000 until 20 May 2022. Projects are encouraged which show an appreciation of nature, foster community wellbeing or make a positive difference to the lives of Kimberley residents.

The Kimberley Community Grants Scheme is funded through the sale of Rhodes grass hay produced at our Broome North Water Resource Recovery Facility.
Apply now