27 Oct 2016

|

Media Release
Kukerin Primary School celebrates a decade of water wisdom
Kukerin Primary School celebrated 10 years enrolled in Water Corporation's Waterwise Schools Program at a special assembly today.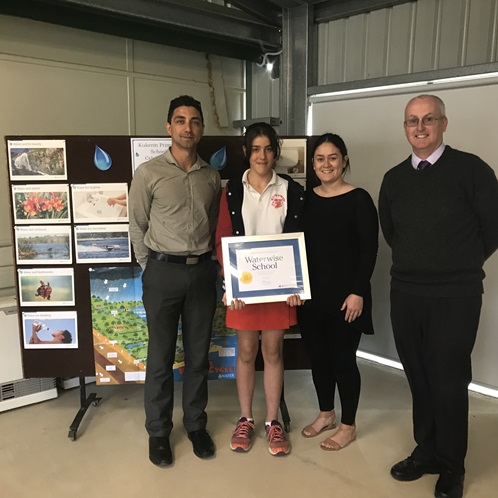 As part of the program, teachers at the school have been educating students about the need to value, protect and conserve our water sources for a decade.
Water Corporation Great Southern Regional Manager, Adrian Stewart, thanked teachers and students for sharing the waterwise message.

"Our Waterwise Schools Program provides support for teachers to educate students to develop water saving habits to last a lifetime," Mr Stewart said.

"Students are the water users of the future, so it is vital teachers continue to educate them about the value of water in our drying climate.

"Congratulations to Kukerin Primary School on your commitment to the program and I look forward to the next decade of waterwise education."

Kukerin Primary School Waterwise Coordinator, Kathryn Nolan, said it was important for students to learn about the importance of saving water in Western Australia.

"As a result of the program the students are more aware of water use at home and at school," Ms Nolan said.

"This year the students learned about water use in the home, how to reduce water use at school and water for hygiene."

Now in its 21st year, the Waterwise Schools Program takes a long-term approach to water education and behavioural change, and complements the curriculum across all major learning areas.

Further information on the Waterwise Schools Program is available at watercorporation.com.au/
---
Media Enquiries:
Contact: Kate Duff
Position: Regional Engagement and Communications Officer
Phone: (08) 9842 4252