21 Oct 2016

|

Media Release
Clarkson Primary School celebrates a decade of waterwise education during National Water Week
Clarkson Primary School celebrated 10 years enrolled in Water Corporation's Waterwise Schools Program at a special assembly today – the final day of National Water Week.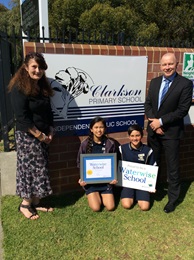 As part of the program, teachers at the school have been educating students on the need to value, protect and conserve water resources for a decade.
Water Corporation General Manager Customer and Community Group, Catherine Ferrari, thanked the school for sharing the waterwise message.
"It's vital the next generation learn about the importance of saving water," Ms Ferrari said.
"National Water Week is held in October each year and provides schools with a great opportunity to promote waterwise messages and hold water themed activities.
"Thank you to the teachers and students at Clarkson Primary School for your dedication to our Waterwise Schools Program and for taking part in National Water Week."
This message was reinforced by Clarkson Primary School's Waterwise Coordinator, Linda Boyd.
"As a result of the Waterwise Schools Program students have become aware of the value of water in the environment," Ms Boyd said.
Ms Boyd said the students were educated about water through science and sustainability classes. Rainwater tanks are also used at the school to water its gardens, which feature a range of waterwise plants.
The Waterwise Schools Program takes a long-term approach to water education and behavioural change, and complements the curriculum across all major learning areas.
Further information about the Waterwise Schools Program is available from the Water Corporation's website at www.watercorporation.com.au
National Water Week is held in October each year. This year's theme 'Water - life - growth' encourages sound water practices and investment in water sources

Over the past 21 years, there have been 563 Waterwise Schools recognised across Western Australia
---
Media Enquiries:
Contact: Media Team
Phone: (08) 9420 2555