18 Oct 2016

|

Media Release
Augusta Primary School celebrates National Water Week
Students from Augusta Primary School celebrated National Water Week on Monday (17 Oct) by visiting the water and wastewater treatment facilities in their town and learning more about water as a precious local resource.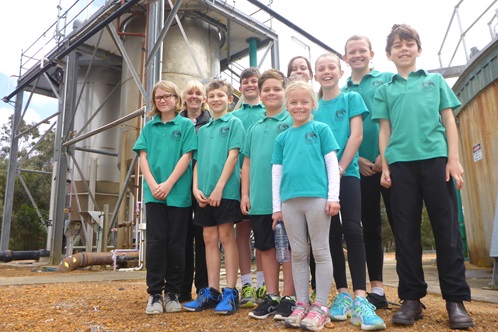 Through Water Corporation's Waterwise Schools program, students have been studying water as part of their science, mathematics and sustainability activities.
Water Corporation South West Regional Manager John Janssen congratulated the school for taking the waterwise message to heart.
"Every October we celebrate National Water Week to remind ourselves water must be used wisely for there to be enough to meet the needs of future generations," Mr Janssen said.
"Against the background of our drying climate it is vital the next generation are waterwise and National Water Week is the perfect opportunity to promote this message by visiting local water facilities.

"At the Augusta Water Treatment Plant, we were able to show the students a groundwater bore, water treatment facilities and explain how our filters remove excess iron and manganese from the source water."
"At the Augusta Wastewater Treatment Plant students were surprised to learn that tiny bacteria do most of the treatment work and are especially effective at removing nutrients that can harm the environment, such as nitrogen and phosphorus."
Augusta Primary School Acting Principal Di Littlewood said the 34 students who took part showed a keen interest in everything they were shown.
"It is really important the students are made aware of the infrastructure that supports their local community as it is often taken for granted in our daily lives."
"Students will now use the information they gathered about water to support their learning across a range of curriculum areas."
For more information about the Waterwise Schools Program or National Water Week, visit www.watercorporation.com.au/waterwiseschools
National Water Week is held in October each year. This year's theme 'Water - life - growth' encourages sound water practices and investment in water sources

Over the past 21 years, there have been 563 Waterwise Schools recognised across Western Australia
---
Media Enquiries:
Contact: Tony Snelling
Phone: (08) 9725 5148