23 Mar 2016

|

Media Release
Waroona District High School becomes waterwise
The fantastic water saving habits of the teachers and students at Waroona District High School were recognised today when the school officially became a Waterwise school.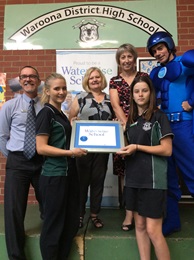 As part of Water Corporation's Waterwise Schools Program, teachers have been educating students about the need to value, protect and conserve our water sources.
Water Corporation South West Regional Manager John Janssen congratulated teachers and students for their waterwise efforts at a special assembly.

"It is encouraging to see how the teachers and students at Waroona DHS are doing their bit to save precious water in our drying climate," Mr Janssen said.
"It is important the next generation are aware how precious water is, and the Waterwise Schools Program has been nurturing that awareness for the past 20 years across Western Australia."
Waroona District High School Waterwise Coordinator Suzanne Perrott, said it was important for students to pick up water saving habits early in life.
"As a result of the program the students are becoming more aware of the value of water in the environment," Ms Perrott said.
"This year the Year 7's participated in a waterwise photography competition and the Year 2 class performed an entertaining waterwise assembly."
"We have also developed waterwise gardens and installed rainwater tanks and water saving devices and this has seen a significant reduction in the school's water use."
Now in its 21st year, Water Corporation's Waterwise Schools Program takes a long-term approach to water education and behavioural change, and complements the curriculum across all major learning areas.
Further information on the Waterwise Schools Program is available at watercorporation.com.au
---
Media Enquiries:
Contact: Tony Snelling
Position: South West Regional Engagement and Communications Officer
Phone: (08) 9725 5148