24 Mar 2016

|

Media Release
The Beehive Montessori School celebrates a decade of waterwise
For the past decade The Beehive Montessori School has been educating its students about the importance of protecting and saving our precious water.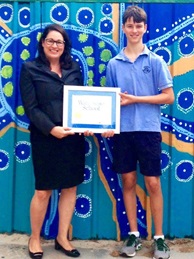 The Beehive Montessori School was the 288th school to join the Water Corporation's Waterwise Schools Program 10 years ago, with this milestone recognised at a special assembly on Thursday, 24 March 2016.
With some help from the Water Corporation, schools across the state have been educating students about the need to value, protect and conserve our water sources since the program began in 1996.
Water Corporation General Manager Customer and Community Group, Catherine Ferrari, thanked the school for sharing the waterwise message.
"In our drying climate it's important the next generation are aware how precious water is and The Beehive Montessori School has been sharing this message for 10 years," Ms Ferrari said.
"An important part of ensuring water supplies into the future is reducing the amount of water we all use, and the Waterwise Schools Program gives students the knowledge they need to save water."
This message is reinforced by the The Beehive Waterwise Coordinator, Debbie McCarthy, who emphasised the relevance of the program to the students.
"As a result of our waterwise lessons, students are aware of the value of water and how important it is to use wisely and conservatively," Ms McCarthy said.
The Waterwise Schools Program takes a long-term approach to water education and behavioural change, and complements the curriculum across all major learning areas.
Further information about the Waterwise Schools Program is available from the Water Corporation's website watercorporation.com.au
---
Media Enquiries:
Contact: Media Team
Phone: (08) 9420 2555