20 Dec 2016

|

Media Release
Ardross Primary School wins visit from waterwise superhero
Ardross Primary School students and their water saving mascot, Walter the Water Hero, won a visit from Water Corporation's superhero – Captain Waterwise earlier this month.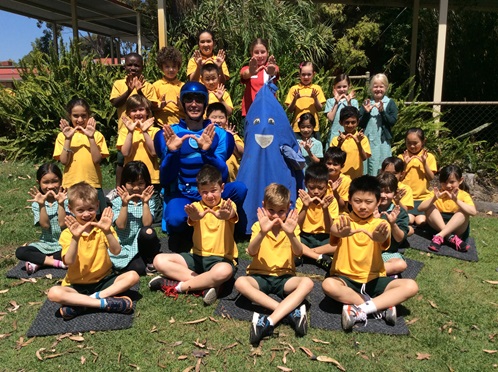 The school won a competition to make a water saving video, with its great entry demonstrating students' passion for sharing the waterwise message. In the video, Walter the Water Hero and students share their tips for being waterwise and the importance of looking after waterways and the environment.
Water Corporation General Manager Customer and Community Group, Catherine Ferrari, thanked the school for its efforts to share the waterwise message.
"It is great to see Ardross Primary School's passion for being waterwise in its winning video," Ms Ferrari said.
"To Water Corporation, each and every student at Ardross Primary School is a water saving superhero, so it was fitting they received a performance from our very own Captain Waterwise.
"With students now on school holidays, I'm sure they are continuing to be water saving superheros!"
Ardross Primary School has been part of Water Corporation's Waterwise Schools Program since 2008. Westfield Park Primary School in Camillo also won a visit from Captain Waterwise through the competition.
Now in its 21st year, Water Corporation's Waterwise Schools Program takes a long-term approach to water education and behavioural change, and complements the curriculum across all major learning areas. There are 568 Waterwise Schools across Western Australia.
Further information about the Waterwise Schools Program is available from the Water Corporation's website at watercorporation.com.au
---
Media Enquiries:
Contact: Media Team
Phone: (08) 9420 2555