17 Aug 2016

|

Media Release
Waggrakine Primary School celebrates a waterwise decade
For the past decade, Waggrakine Primary School has been educating its students about the importance of protecting and saving our precious water through the Waterwise Schools Program.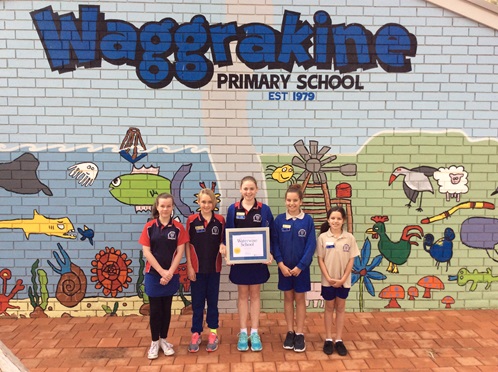 Water Corporation Mid West Regional Manager, Steve Greeve, thanked the school for sharing the waterwise message.
"Our Waterwise Schools Program provides support for teachers to educate students about the need to value, protect and conserve our water sources, and develop water saving habits that will last a lifetime," Mr Greeve said.
"Students are the water users of the future, so it is vital teachers continue to educate them about the value of water in our drying climate.
"Congratulations to Waggrakine Primary School on your commitment to the program and I look forward to the next decade of waterwise education."
Waggrakine Primary School Waterwise Coordinator, Gary Hancock, said as a result of the Waterwise Schools Program, students were more aware of the importance of water conservation.
"Our students look at ways they can save water within the school and at home," Mr Hancock said.
"The program teaches everyone how simple measures can make a big difference to using water more efficiently."
The Waterwise Schools Program takes a long-term approach to water education and behavioural change, and complements the curriculum across all major learning areas.
Further information about the program is available at watercorporation.com.au
Did you know?
Water Corporation's Waterwise Schools Program is now in its 21st year, with 563 schools recognised as waterwise through the program.

The Waterwise Schools Program is free and offers professional learning sessions, promotional resources, competitions, networking events and free training for school gardeners.
---
Media Enquiries:
Contact: Veronique Thomas-Smith
Position: Mid West Regional Engagement and Communications Officer
Phone: (08) 9923 4911